12/04/2021 bis 17/04/2021
Axis Syllabus Online Intensive
More Infos

www.movementartisans.net

Registration

booking.movementartisans.net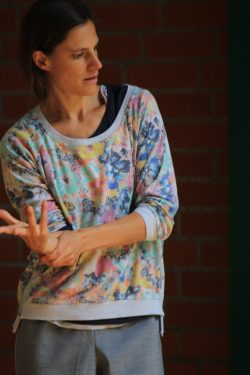 Online Intensive with Movement Artisans
12. April-17.April 2021
11 Sessions with:
Alignment Spectrum for Dynamic Movement – Kira Kirsch
Elastic Loading – Adaptability – Explosivity – Antoine Ragot
Pre-Spinal Movement / Body Mind Centering® – Nina Wehnert
Touch Membranes (work with a partner) – Kira & Antoine
Immerse yourself more deeply over the duration of six days live or later with the recordings.
Our program provides furthering professional education in movement analysis, applied anatomy, biomechanics and physics for dancers, dance pedagogues, body workers, physiotherapists or other related professional fields. It may begin as a foundation for new students to the Axis Syllabus or provides a deepening and continuing training for the more experienced. Each module weaves together a matrix of material that offers insights as well as guidance, and inspires autodidact studies. We closely collaborate with our dear long time colleague Nina Wehnert who will accompany the Axis Syllabus inquiries with her compelling way to facilitate embodiment journeys through Body-Mind-Centering® perspectives.
Kira Kirsch – Dynamic Alignement Spectrum
Monday, Tuesday, Wednesday
10.00 – 11.30 am CEST
The knowledge of "proper" alignment is not something we once learn, internalize and then never have to touch upon again. I invite you to consider alignment & orientation as a re-occuring dynamic practice that honors a body, embodiment and science being in process of constant change and re-orientation.
Antoine Ragot – Elastic Loading – Adaptability – Explosivity
Thursday, Friday, Saturday 10.00 – 11.30 am CEST
This course aims to provide tools to enhance and celebrate floor work, body physics, our flesh and the recognition and embodiment of the fractal phenomenon.
Nina Wehnert – Pre-Spinal Movement / Body Mind Centering®
Monday, Tuesday, Thursday 6pm CEST
Which patterns ly underneath spinal movement? We will research the
overlapping layers of early developmental movement patterns that are shaping and supporting movements of our spine.
Kira & Antoine – Touch Membranes / explorations with a partner
Wednesday & Friday 6pm CEST
These two sessions are a preliminary partnering study. We will use touch and sensing to extend our understanding of our own anatomies to that of another. No previous contact experience is needed and partner doesn't need to have any dance experience! Anatomy and the principles of the Axis Syllabus will be referenced in guided explorations.
More Infos and Registration: https://booking.movementartisans.net/courses/online-intensive-april