27/11/2021 bis 28/11/2021
"Connectedness"
Tanzfabrik Berlin

Sa 10h-17.30h So 10h-13h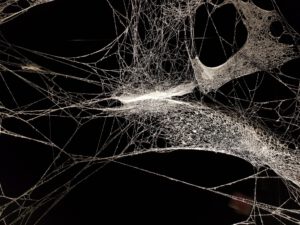 Body-Mind Centering® Workshop in Berlin/ Tanzfabrik
This workshop will explore aspects of fascia, ligaments, bones, fluids, muscles in movement, touch, breath, sound.
We will dive into the fine-tuning of movement as well as following the vastness of flow of our aliveness!
How do we relate to the world around us, act and connect to our environment and ourselves? How do we navigate through space? How do we orient?
Our ligaments offer specificity in movement, our connective tissues support us like an endless inner ocean: calm, chaotic, spirilic, creative. Connecting within us and with the world on many levels.
Through explorations in movement, somatizations, research alone and with a partner we will navigate through these tissues which support our movement and stillness. Embryology, Developmental Movement Patterns and Contact Improvisation will be weaved into the weekend.
This workshop is open for people with and without experience in Body-Mind Centering®. It is a possibility use this weekend as a try-out for the BMC® Training Program in 2022!
It will be taught in English and German.
Times:
Samstag: 10h-13h und 14.30h-17.30h
Sonntag 10h-13h
Costs: 105€
Place:
Tanzfabrik-Kreuzberg
Möckernstr. 68
10965 Berlin
Registration and more Infos: ninawehnert (@)gmx.de