27/02/2023 bis 02/03/2023
Diversity & Balance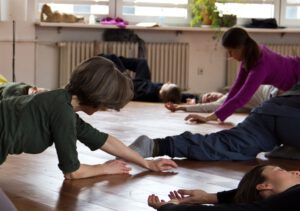 After a break of two years the "Diversity and Balance" days will finally take place again! We are looking forward to invite together with 10 Berlin BMC® and IBMT teachers* to 12 classes.
This year we would like to focus on the topic of resilience and resilience skills. Resilience means the ability to face challenges, to regulate oneself and to emerge stronger from challenges. After the various states of excitement and difficulties of the last years the different classes offer bodily experience of nourishing oneself, drawing strength and possibilities of encountering oneself.
In Body-Mind Centering® (BMC®) and Integrative Bodywork and Movement Therapy (IBMT) we explore dynamic connections between body and mind, consciousness, thoughts and feelings. Through anatomical information, as well as through movement, touch and the finest sensing, structures in the body are made tangible and enable a deeper, more subtle experience of one's own body and our relation to our environment. Through early childhood developmental movement patterns we explore movement from single-celled organisms to walking beings. Individual stages of development intertwine and provide the ground for our actions today.
All classes are open to people with and without prior experience in BMC® or IBMT. It is possible to book classes individually.
More infos: https://www.somatische-akademie.de/en/your-account/booking-en